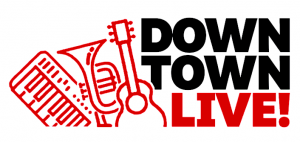 DOWNTOWN LIVE!
Join us starting July 15th every Thursday night from 6 to 10pm for FREE live music at
City Pier on the Waterfront Park in Downtown New London!
All shows are FREE and open to all!
Bring a chair or just dance…Grab a bite from one of the food trucks or a drink from the mobile pub! 
Music Schedule:
July 15 – Soul Shot and Llama Tsunami
July 22 – USCG Dixieland with The Clams and 9th Wave
come down early for the Bank Street Breakout car show
music starts at 5pm for this one
July 29 – Bank Street Groove with Epitome 
August 5 – Terrance Simien & the Zydeco Experience 
with Balkun Brothers and Gadjzo
August 12 – Jesse Dee with Dogbite and Sweet Mercy
August 19 – The Silks with Ken Atkins and Christopher Listorti
August 26 – Billy Wylder with Kat & Brad and The CarLeans
September 2 – Ray González Orchestra with Latin Essence Group